Workshops
Principles of First Steps to Jazz Improvisation can be taught in a workshop environment. Author Allan Meyerson presents the ideas in the book in a step-by-step style that leads the participants in a logical, and easy to understand, group session. "If you can play major scales you can improvise!"
All books and learning materials will be included. Just bring a pencil and a musical instrument of your choice.
Workshop Dates
Beginning Jazz
Five Day
Workshop Young Adults
July 25 - July 29, 2022
10:00 am - 3:00 pm Daily
Nazareth Center for the Arts
30 Belvidere Street
Nazareth, PA 18064
One Day Workshop
The one day workshop can be taught where a time constraint is a factor. Although all the ideas of the book are imparted to the students, there is less time for the individuals to play and experiment with the music. This is a great five hour session for those people that have been playing for a long time but have little or no concept of jazz notation and where to begin.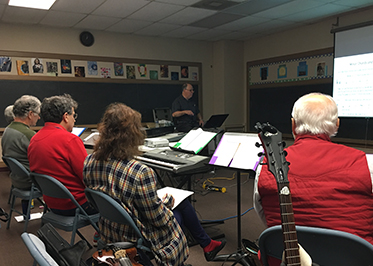 Adult One Day Workshop
The emphasis on:
Chord Symbols
Major Chords
Minor Chords
Dominant Chords
Progressions
Practice Techniques
Scale Applications
Patterns
Application to Songs
Three Day workshop
This is a three day, five hours per day, workshop. It will have all the information of the one day workshop plus more time to play and experiment. In addition to the information above, the workshop will include:
The Blues Scale
Use of Chromatic Scales
Rhythms and Phrasing
Unusual Chords
Five Day Workshop
This workshop is six hours a day for five days. It will have all the above information and a lot more play time. All the information in the book will be discussed thoroughly. Some jazz history and a discussion of styles will be presented. By the end of the week everyone should be able to have the knowledge needed to begin their journey into improvisation. Every participant will be given an opportunity to play.
Five Day Beginning Jazz Workshop for Young Adults
All the workshops are taught in the Eastern Pennsylvania area. Arrangements can be made to have them taught at your location. The workshops can be set up by age or skill level. The author has taught the workshops to young teens as well as octogenarians.
For more information about dates, times and price for workshops, or if you are interested in having a workshop at your school or venue, click on the button below.
Five Day Advanced Jazz Workshop for Young Adults
This new workshop was added to broaden the knowledge acquired in the Beginning Jazz Workshop. Designed for students with the basic understanding of chords, scales and progressions, this workshop will teach young musicians a practical application using songs. Requirements for this workshop is previous attendance of the Beginning Jazz Workshop or Audition. All instruments accepted. Ages 12 - 18
Students may take the Beginning Jazz Workshop and The Advanced Workshop back to back.

These workshops will change your approach to music forever!